Master of Fine Arts in Visual Narrative Thank you
Be Part of it at BU. What stories will you tell?
Getting to Know Joel Christian Gill, Chair, Visual Narrative
Read more about Gill
Stories that make a difference
.
Create compelling stories. The MFA in Visual Narrative integrates twphe BU School of Visual Arts' strengths in drawing and design with sequential art storytelling practices. Come work with leaders in the field to build powerful narratives that integrate writing with visual language. Engage with university classes and the resources of the College of Fine Arts to inform and expand your practice. Learn the theory of how word and image function together and the history of the medium. Graduate prepared to enter this quickly expanding field and make your mark by doing what you love.
Gain skills to take you where you need to go.
Upon completion of the degree, you'll have the skills to tell the stories you want in the way you want to tell them. You'll be able to:
Understand the power of narrative when written and visual media overlap and work in tandem;
Communicate complex information that resonates with the intended audience emotionally and conceptually through both word and image;
Conduct background research and write in humanities-based themes and contexts that inform and support individual graphic interpretation;
Understand digital media and its importance and potential for expanding and integrating the use of design, animation and drawing in the field; and,
Create original graphic narratives as author and draftsperson that demonstrate development of a creative and critical voice informed by past precedent and contemporary practice.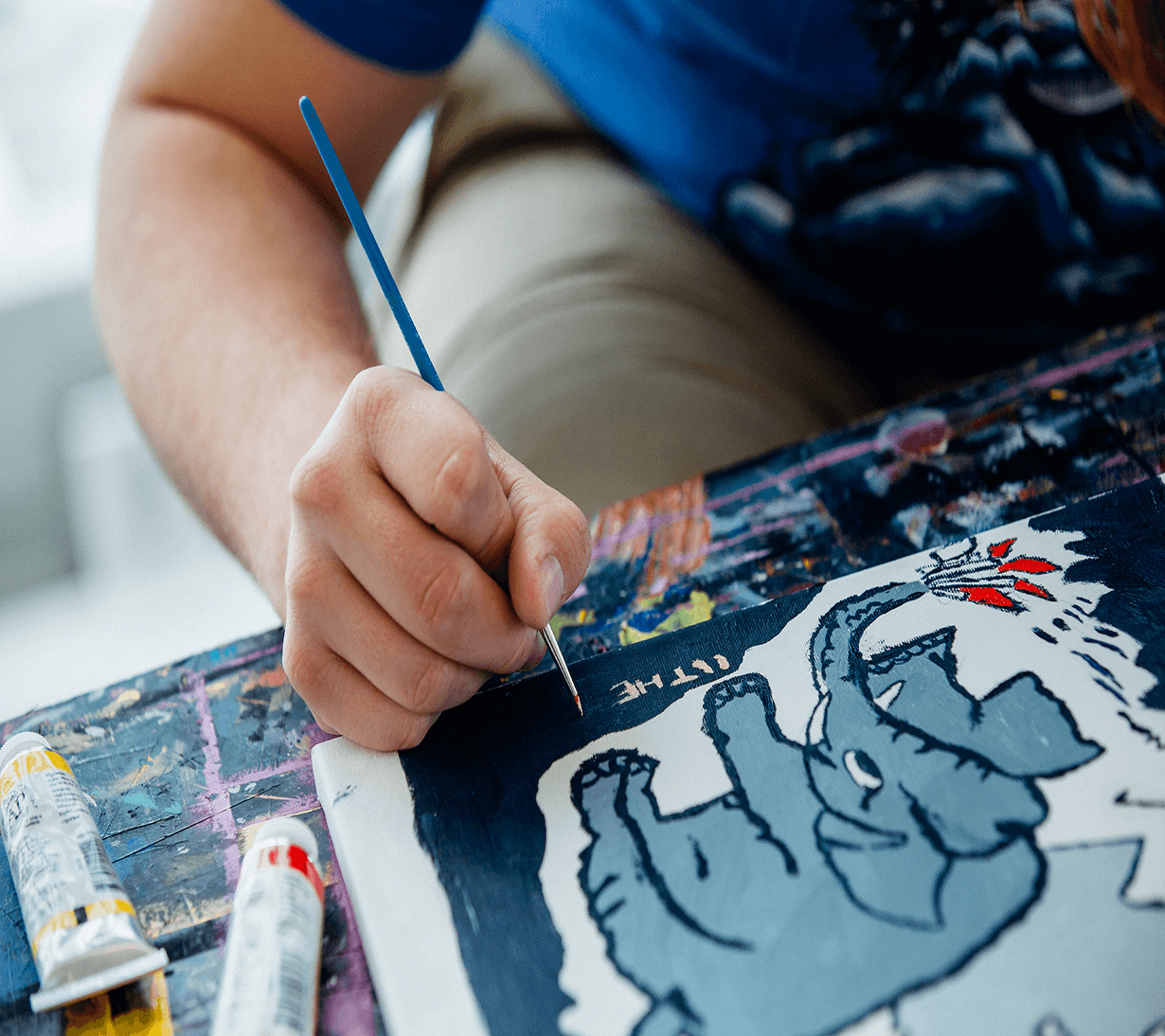 Teaching the Power of Storytelling
The MFA in Visual Narrative curriculum integrates strengths in the School of Visual Arts with broad opportunities for elective study in writing and research. It emphasizes visual sequencing in storytelling and multimodal narrative theory specific to the intersection of word and image.
Students engage critically with the history of the discipline, including its role galvanizing social messages and contributing to the way information is disseminated and made persuasive to mass audiences.
Because visual narratives often offer an approachable first-person perspective on social issues that can make complex information more accessible, students in their first year develop nonfiction narratives that are targeted to their specific area of personal engagement and conceptual artistic interest, such as social justice, history, gender studies, or the natural and social sciences. The second year is devoted to a thesis project developed in conversation with lead faculty and visiting critics and shared publicly prior to graduation.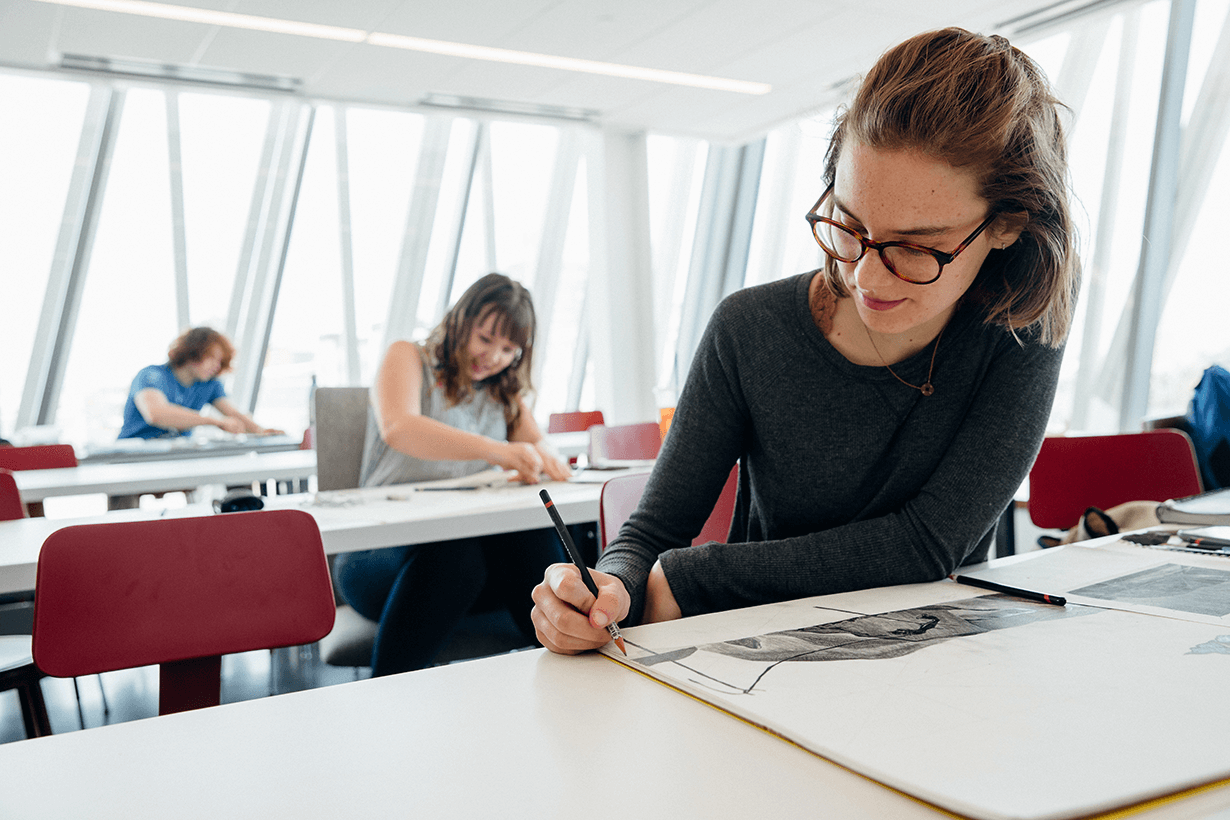 What can you do with an MFA in Visual Narrative?
Earning your MFA in Visual Narrative will prepare you for a wide-range of future opportunities. You'll be prepared broadly as an artist—with skills to work as a story artist, graphic novelist, or comic artist.
You will be ready for more entrepreneurial positions and a career in a wide range of industries including illustration, game design, medical humanities, film and entertainment, and digital and print media.
Teaching Assistantships with BFA and BA courses in art help you gain experience teaching, help pay your tuition, and prepare you for a teaching career in higher education at a time when universities are expanding the field of graphic storytelling in their curricula.  
You'll also have access to BU's worldwide network of alumni and connections to professions to help you build your career.
Resources for the MFA in Visual Narrative program
MFA in Visual Narrative students will be supported by the following College of Fine Arts resources:
Multiple digital studios, including one dedicated solely for the MFA Visual Narrative program, one in Printmaking and one in Photography;
A three-color RISO printer with large array of color drums for limitless color potential;
Access to courses in printmaking along with state-of-the-art print facilities that include lithography, etching, relief, digital printmaking, and silkscreen;
Book Arts classes and facilities including type; and,
Proximity to 90 graduate students across art education, painting, sculpture, graphic design, and print, media and photography.
In addition, Boston University makes a full-range of valuable resources available to MFA in Visual Narrative students. A selection of these include:
The BUild Lab IDG Capital Student Innovation Center is home to people, programs, and collaboration space that helps all BU students and recent alumni transform their ideas into something real and develop innovation skills, an entrepreneurial mindset, and a strong community along the way;
The Boston University Center for Antiracist Research, whose mission it is to convene researchers and practitioners from various disciplines to figure out novel and practical ways to understand, explain, and solve seemingly intractable problems of racial inequity and injustice; and,
Boston University Libraries, including the African American Library, the Krasker Film/Video Library, the Mugar Memorial Library, the Music Library, and the The Howard Gotlieb Archival Research Center, which captures and documents history by collecting the manuscripts from individuals who play a significant part in the fields of journalism, poetry, literature and criticism, dance, music, theater, film, television, and political and religious movements.